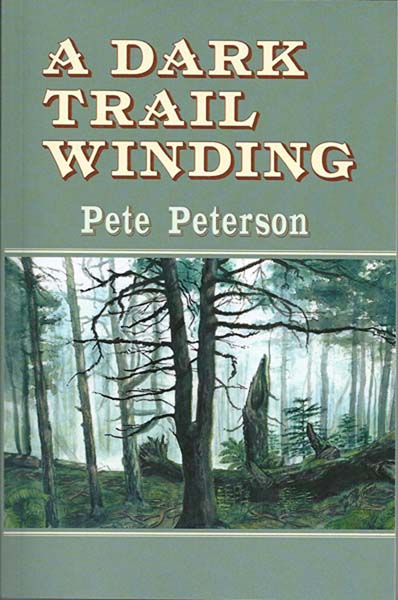 Cover Art by Pete Peterson

Seduced by the false promise of easy riches and endless pleasures in the saloons and gambling dens of the raw Oregon frontier of the mid-1880's, Jake Eriksson is caught in a quagmire that threatens to destroy him. While traveling with his trusted companion Lafe Cawkins and trying to protect his love, Ellie Warren, Jake must avoid the murderous intentions of Malachi Winter.
The torment that Jake endures in his painful quest for redemption, and the obstacles he conquers on his suspenseful and mystical journey to recovery, are the ingredients for a vivid, sensitive and moving drama. The thrilling action of a wild horse roundup, a stampede, and the roar of outlaw guns speeds A Dark Trail Winding toward an explosive and exciting resolution.
Paperback or Kindle E-book Available at:
www.amazon.com/author/petepeterson
Hardcover available from author. Limited quantity. Contact:
E-mail: peterson40@cox.net

_____________________________________________________________________________________________________

Updated March 9, 2013
© 2010-2013 by Pete Peterson of Oklahoma, U.S.A
This site may be freely linked, but not duplicated in any way without
the permission of the website owner, Pete Peterson
______________________________________________________________________________________________________